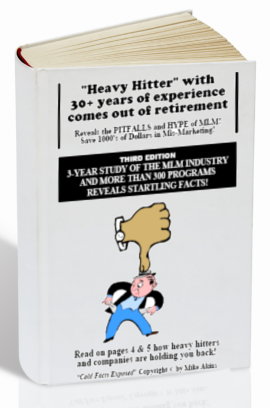 Receive your FREE copy of "Cold Facts Exposed," by Mike Akins, a 3-year study of over 300 programs, revealing the truth about most MLM programs.
Please enter your E-mail address, name, and any other information, comments, or requests above. You will receive an e-mail with a like where you can download your FREE e-book by Mike Akins. Learn what Mike Akins learned after spending half a MILLION DOLLARS to study the MLM industry.
We will never sell, forward, give, or otherwise disclose your e-mail address to anyone or any company. It will be used only for SmartImmune.com. You may receive infrequent updates from SmartImmune.com and may request to be removed at any time.